Crypto license Czech Republic
The liberal approach to cryptocurrencies and the ease of cutting bureaucracy have turned the Czech Republic into a welcome home for crypto companies, whose main tasks should fit into the general legislation and meet the requirements of the AML/CFT originally imposed by the EU. Despite the lack of regulation, some products and services can already be paid with cryptocurrency, which is an indicator of crypto adoption.
The Czech National Bank (CNB) is responsible for the general supervision of the financial market in the Czech Republic. According to authorities, cryptocurrencies are not considered legal tender. Cryptographic data stored on a blockchain is not a claim expressed in traditional national currency issued by a central bank, credit institution, or other payment service provider. Under article 4 (1) of the Payment System Act, cryptocurrencies are not regarded as electronic money. According to Article 2(1)(c) of the Law on the Payment System, they are also not considered funds. Instead, cryptocurrencies are classified as commodities.
Before you start your cryptographic operations in the Czech Republic, you can take advantage of the help provided by local initiatives. Various start-ups and incubators offer support related to crypto product development, marketing and sales. One of them is CzechInvest, a government agency that offers a seven-month CzechStarter incubator program where startups can get funding, as well as access to seminars and expert consultations.
Blockchain Connect Association / Czech Alliance was founded in 2018 to accelerate the development and promote the use of blockchain technology across the country. The Association also seeks to combat fraud and eradicate corruption, which should build confidence in innovative financial solutions.
The Cryptoanarchy Institute, established by a non-profit organization called Paralelni Polis, aims to promote a decentralized economy that includes unrestricted dissemination of information and the widespread introduction of such blockchain-based products and services as cryptocurrencies.
All new and existing crypto companies can use the FinTech CNB contact point, an optimized communication channel created to improve the functioning of financial market participants with an emphasis on innovation. Cryptographic companies can seek regulatory advice by filling out a contact form where it is important to explain why a particular product or service is considered a financial innovation. However, this should not replace professional lawyers. If you would like to receive comprehensive legal advice, please contact us – we will be more than happy to provide guidance.
Cryptocurrency Licence in Czech Republic
Cost of cryptocurrency license
| | |
| --- | --- |
| PACKAGE «COMPANY & CRYPTO LICENSE IN Czech Republic» | 3, 400 EUR |
PACKAGE «COMPANY & CRYPTO LICENSE IN CZECH REPUBLIC» INCLUDES:
Preparation of necessary documents for registration of a new company in the Czech Republic
Acquisition of a legal address for the company
Translation of a certificate of no criminal record into Czech through a sworn translator
Payment of state fees related to company registration
Payment of notary fees related to company registration
Registration of the Company in accordance with the law
Obtaining the licence for the provision of services related to virtual assets in the Czech Republic
Preparation of internal AML / CFT documentation in accordance with the requirements legislation
| | |
| --- | --- |
| | from 290 EUR |
| | from 300 EUR |
| | 1,500 EUR |
| | 1,500 EUR |
| | 6,900 EUR |
CRYPTO LEGISLATION IN THE CZECH REPUBLIC
Although there is no reliable national cryptographic regulatory framework that could fully protect investors, Czech crypto companies remain subject to EU law, as stated in the summary "Security of Internet Payments and Cryptocurrency"published in 2018 by CNB.
Czech Republic harmonized its legislation with the EU Fourth Anti-Money Laundering Directive (4AMLD) and the Fifth Anti-Money Laundering Directive (5AMLD)that require cryptocurrency exchanges and crypto purse providers to implement internal AML/CFT procedures such as KYC. In addition, the amended Czech legislation covers a wider range of crypto-related economic activities, as it applies to those enterprises that trade, store, manage, or broker the purchase or sale of virtual currencies or offer other services related to cryptography.
For AML/CFT purposes, digital currency is defined as a digital unit that does not fall into the category of fiat money, but is still accepted as a means of payment for products and services by persons who are not issuers of that unit.
Every Czech company engaged in cryptography-related economic activities is subject to the following laws concerning AML/CFT:
The Financial Analysis Authority (FAU) is the main AML/CTF oversight body, while the CBN is responsible for enforcing other financial market legislation. At present, the authorities have not introduced any complex registration process for companies involved in cryptography-related economic activities, making it relatively easy to enter the market.
Companies engaged in activities related to cryptography should consider the following general laws governing financial services:
The general legislation requires the authorization of the NSC for the following types of economic activities related to cryptography:
Trading with crypto derivatives – they have features of investment instruments, so trading with them requires a license from an investment firm
Managing the assets of investor funds that contain cryptocurrencies, regardless of whether funds are offered to the public or only to a limited group of investors
Transfer of funds in connection with the organization of transactions with cryptocurrencies (e.g. as part of the crypto-exchange operation, when a person transfers non-cash money or electronic money, and such transfers have features of the provision of payment services, in particular, the transfer of funds from the accounts of clients of such exchange to the payment accounts specified by them)
TYPES OF CRYPTO LICENSES IN THE CZECH REPUBLIC
Currently, most cryptographic companies planning to start economic activities in the Czech Republic must obtain one of the usual trade licenses from the Trade Licensing Register, which allows them to operate within the EU, including the opening of offices in any member country without having to deal with extensive bureaucracy, provided that they notify local authorities in accordance with local regulations.
Classification of activities:
Transactions subject to notification may take place immediately upon notification
Authorized activities may be carried out after a concession has been granted on the basis of a special commercial license if it is necessary to fulfil certain conditions (e.g. relevant professional experience or education)
Depending on the purpose of using the cryptocurrency, the company may apply for any of the following licenses:
The Classic – Sharing Among Cryptocurrencies for a Fee
Fiat – exchange between cryptocurrencies and fiat money on commission
Traditional – currency exchange intermediation of all kinds
Specialized – specific products and services related to cryptography (crypto-wallets, encrypted client keys, etc.)
If the crypto company does not receive the appropriate license, it risks being identified as a fraudster, fined up to 500,000 CZK (ca. 20,204 EUR) and be forced to close.
Fast project implementation time
Possibility to purchase an off-the-shelf solution
No share capital requirement
No obligatory local staff member
HOW TO START A CRYPTOGRAPHIC COMPANY IN THE CZECH REPUBLIC
To obtain one of the four licenses, a cryptographic company must be registered in the Czech Republic. Limited Liability Company (SRO) is one of the most popular legal business structures in the Czech Republic due to such advantages as low minimum equity requirements, a small number of founders and the possibility to be exempt from financial audit. It may be registered within three weeks, provided that all necessary documentation is submitted in due course.
The main requirements for a cryptographic company:
Business plan reflecting the complexities and business model for business continuity and details of the financial statements
Registered physical office in the Czech Republic
Development of domestic anti-money-laundering/counter-financing of terrorism policy to ensure detection and reporting of fraudulent activities
Recruitment of an anti-money laundering officer to be trained in accordance with the company's operating model and reporting requirements
Description of any hardware and software used for the proposed economic activity
Development of data protection procedures in accordance with GDPR and other relevant legislation, which at the same time should allow the exchange of data with authorities
Develop policies and procedures that can ensure the security of client funds
The main steps for opening SRO for cryptographic operations are:
Verification of the name of the new company
Receipt of a criminal record statement issued by the competent authority which proves that there are no impediments to engaging in crypto-related economic activities
Obtaining a legal address for at least one year
Opening a corporate bank account
Transfer of the minimum share capital, which is only 1 CZK (approx. 0,04 EUR)
Obtaining a compulsory trade license from the Trade license Registry
Preparation and notarization of the founding contract
Payment of state fees related to registration – 6000 CZK (ca. 243 EUR)
Registration of the company in the Register of Enterprises and Tax Authorities
Registration of a company with the FAA for AML/CFT reporting purposes
All necessary documentation must be submitted in the Czech language. If you need a certified translator, our team here in Regulated United Europe (RUE) will be more than happy to help.
You can also opt for a remote company formation, in which case you need to sign a power of attorney that allows your representative to act on your behalf throughout the process of creating your crypto company.
CRYPTO LICENSING PROCESS IN THE CZECH REPUBLIC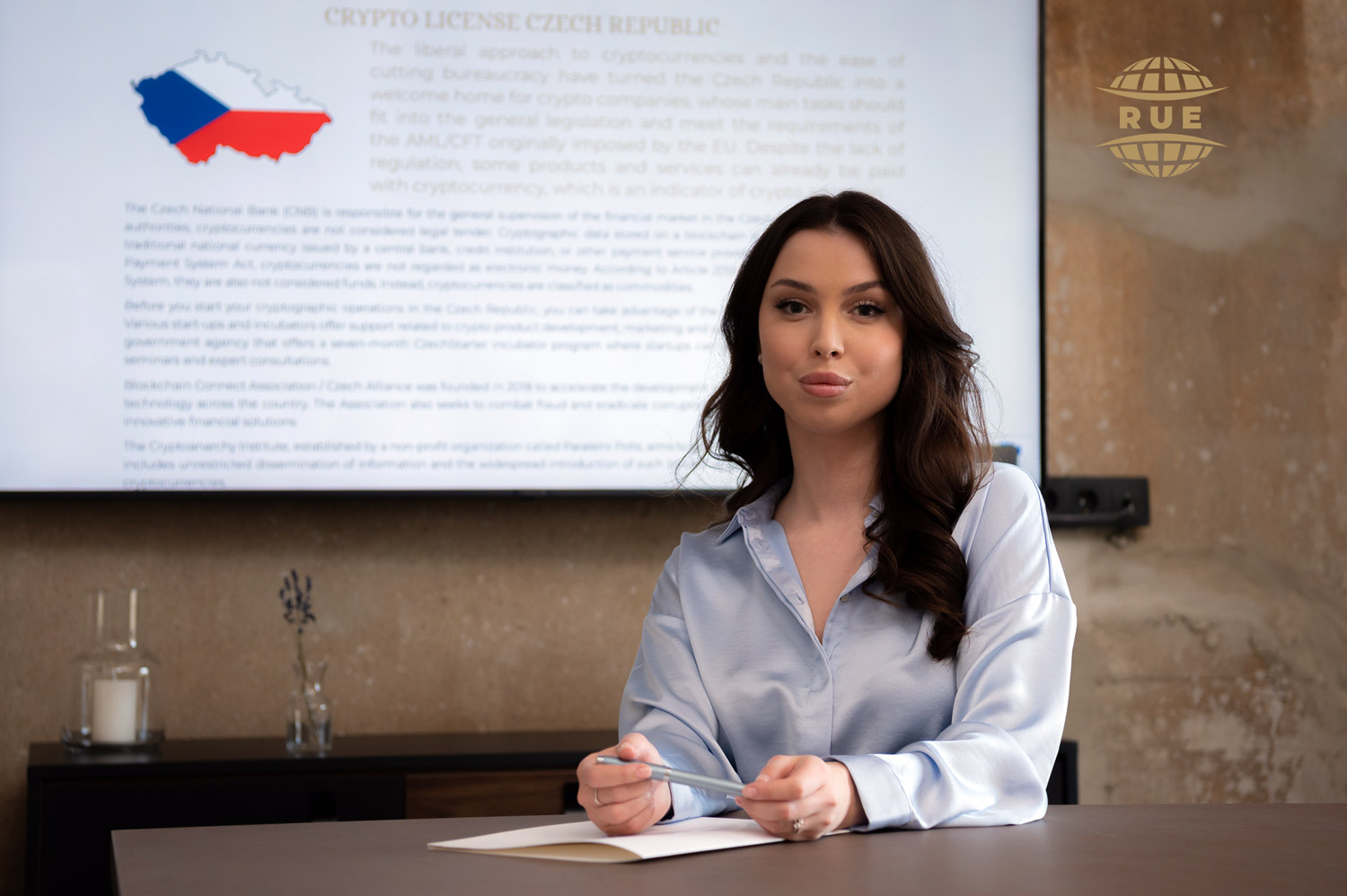 Since there's no crypto-specific license in the Czech Republic, companies planning to engage in crypto-related economic activities are required to follow general authorisation procedures, stipulated by the Trade Licensing Register. Crypto licensing process may take up to four months, which is inclusive of the company formation.
Generally, a crypto company has to submit an application to one of the general Trade Offices in Czech language containing all the essential information about the company and its founders (shareholders). It should be accompanied by the business plan (including strategy and operations) and various background documentation.
Applications can be submitted online using a secure electronic signature and sent to the central Electronic Filing Room of the Trade Register. Submissions are processed by a competent Trade Licensing Office indicated by the applicant.
The assessment of the application may include information sharing with foreign regulatory authorities. If the application is successful, a license is issued only for specific crypto activities. It's worth keeping in mind that at times the license might be conditional, which means that a new licensee may be required to meet additional conditions before starting to operate in the Czech Republic.
Once a crypto company is licensed in the Czech Republic, a licensee is obligated to share relevant reports (e.g. client information) with such authorities as the CNB and the FAU. In case of errors or refusal, the license might be suspended without a possibility to obtain a new one, as such a company would be considered fraudulent.
Crypto regulation in Czech Republic
| | | | |
| --- | --- | --- | --- |
| Period for consideration | up to 1 month | Annual fee for supervision | No |
| State fee for application | 250 € | Local staff member | No |
| Required share capital | from 0,04 € | Physical office | No |
| Corporate income tax | 19% | Accounting audit | No |
CRYPTO TAX IN THE CZECH REPUBLIC
No matter what trading license you choose to apply for, your crypto company will become a common taxpayer in the Czech Republic. Taxation is carried out by the tax authorities. The tax year coincides with the calendar year, but companies can choose the accounting year as the tax year.
The tax regime of crypto companies varies depending on the purpose of the cryptography activity, but does not differ from other businesses unless the EU enacts specific legislation. For example, the Court of Justice of the European Union (CJEU) has ruled out that, for VAT purposes, cryptocurrencies like Bitcoin are treated as traditional currency and therefore cryptographic exchange services (cryptocurrency for fiat money and vice versa, as well as cryptocurrency for other cryptocurrency) are exempt from VAT.
Companies supplying various types of cryptographic products and services must register as VAT payers. The tax period for newly registered VAT payers is a calendar month.
Standard tax rates in the Czech Republic:
Corporate Income Tax (CIT) – 19
Tax on branch (BT) – 19%
Capital Gains Tax (WCL) – 0%-19%
Value Added Tax (VAT) – 21
Social Insurance (SVP) – 24.8
Medical insurance (SA) – 9
Resident companies are taxed on the basis of their income, while non-resident companies are taxed only on income earned in the Czech Republic. If the company is headquartered in the Czech Republic, it is considered a resident taxpayer. The taxable income is calculated according to the accounting profit based on the Czech accounting rules.
Cryptocurrency licensees and their partners must ensure that they are able to operate within the existing tax system, despite the novelty of their activities. For example, the following rules should be considered:
If employees pay in cryptocurrency, they and their employer are obliged to pay general taxes
While cryptocurrency companies may be exempt from VAT when there is no vendor-customer relationship, typically their income from operating fees is taxable at the standard corporate income tax rate
If ordinary product and service providers get paid in cryptocurrencies, they are taxed the same way as those who get paid in fiat money
Although crypto-related economic activity in the Czech Republic is largely unregulated, the use of cryptocurrencies for tax evasion or unconscious disregard of tax rules will certainly lead to prosecution, because the Czech government has made it a priority to eliminate tax evasion through the anonymity of cryptocurrency owners. If you want to have a clear idea of your crypto company's tax liability, our tax experts will be happy to give you advice.
The good news is that cryptographic licensees can also access existing tax benefits and incentives. For example, eligible Czech cryptographic companies may be able to benefit from the R&D tax credit, where up to 100% of the relevant R&D expenditures incurred during the tax year are deducted from the tax base as a tax credit. This means that expenses are deducted twice for tax purposes – as normal tax-free expenses and as a tax credit for R&D. In addition, if the qualifying expenses of the current tax year exceed those of the previous year, a further 10% may be applied as a supplement.
REPORTING REQUIREMENTS
Crypto licenses should be aware that they should constantly meet strict corporate reporting requirements, which are closely matched with the International Financial Reporting Standards (IFRS).
Annual financial statements must contain a balance sheet, income statement and notes. Companies, which audited financial statements are mandatory for, must supply a statement of cash flows and statement of changes in equity. Annual financial statements are published in the Business Register and must be filed along with the tax return.
Auditing is mandatory for the companies that meet at least two of the following criteria:
Turnover exceeds 80 mill. CZK (approx. 3,234,413 EUR)
Total assets exceed 40 mill. CZK (approx. 1,617,206 EUR)
Average number of employees is over 50
If you've decided to obtain a crypto license in the Czech Republic, our highly experienced and dynamic team of Regulated United Europe (RUE) is here to guide you through the process. We offer assistance in crypto company formation and licensing, as well as accounting services. Furthermore, we'll be delighted to advise on taxation and corporate reporting. Rest assured, we guarantee efficiency, confidentiality as well as meticulous attention to every detail that impacts your business success. Contact us now to book a personalised consultation.
Czech Republic
| | | | |
| --- | --- | --- | --- |
| Capital | Population | Currency | GDP |
| Prague | 10,516,707 |  CZK | $28,095 |
FREQUENTLY ASKED QUESTIONS
At the moment, the main services of our company are legal and compliance solutions for FinTech projects. Our offices are located in Tallinn, Vilnius, Prague, and Warsaw. The legal team can assist with legal analysis, project structuring, and legal regulation.
Company in Poland Sp. z o.o
Company in Czech Republic s.r.o.
Please leave your request