Crypto License in Lithuania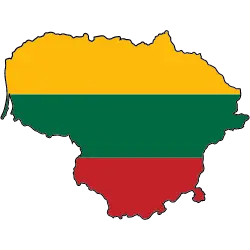 There is an official permission from the Lithuanian government to conduct and regulate crypto business, which makes it one of the few European Union member states where legal financial transactions with cryptocurrency are possible. The Lithuanian government offers permission to use virtual currencies along with FIAT (traditional financial services) and electronic money (e-money).
Licensing for virtual currencies in Lithuania is available in two forms:
An exchange license for cryptocurrencies (an exchange license for cryptocurrencies). Such a license enables companies to exchange cryptocurrency for capital, or for another cryptocurrency, and receive a fee for the services.
Custodian license for crypto wallets (custodian license for crypto wallets). Cryptocurrency wallets can be managed by a licensed company, including the generation and storage of encrypted client keys.
| | |
| --- | --- |
| PACKAGE «COMPANY & CRYPTO License IN LITHUANIA» | 9,900 EUR |
PACKAGE «COMPANY & CRYPTO LICENSE IN LITHUANIA» INCLUDES:
The establishment of a company or the purchase of one that is already established
A EUR 125,000 contribution to the registration of the share capital
Preparation of legal documents for companies
Assistance with state social insurance fund employment/KYC/AML officer and information
For one year, Vilnius Business Centre will be the legal address
An analysis of the Cryptocurrency Company's business model and structure
Providing assistance to cryptocurrency companies in opening bank accounts
Company KYC/AML procedures and procedural rules
Submission of notifications to Lithuanian FCIS and Business Registers
Fees for registering a company with the government
License fees for government-issued cryptography
Five hours of general counselling
General regulations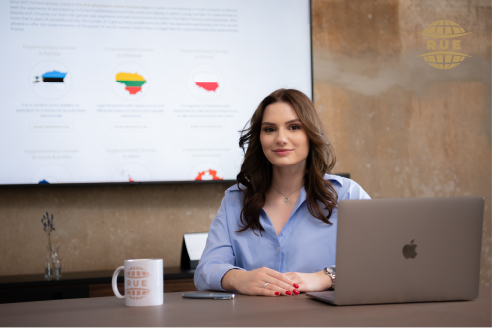 It is possible for the authority to request more information and an in-depth description of the cryptographic company's activities during the procedure. As soon as all the necessary data has been collected and is complete, a licence can be granted.
In order to mark a virtual firm correctly in the system with the complete portfolio of documents, any changes in its structure after acquiring a license (addresses of the owner, board members, beneficiaries, employees) must be done after the license has been obtained.
Lithuanian Business Register provides the license application form for cryptography and is under the control of the FCIS. It is a department within the Lithuanian Police and Border Police Department that has a unique function. See Lithuania's cryptography rules for more information.
Order V-5 of January 2020, which governs money laundering and terrorism financing, applies to virtual currency businesses.
LICENSING PROCEDURE
Limited liability companies (UABs) need to be incorporated in Lithuania to obtain a virtual currency license. A minimum of 2500 euros is required for the authorized capital of the company. There is no need to visit Lithuania by proxy or use the electronic card of the Lithuanian resident for the creation of a crypto company. The company could be created completely remotely.
Cryptocurrency structures require a minimum of one member, which can be both an owner and a board member. AML, a cryptographic company, employs him as well.
It is not necessary for the officer/official responsible for combating money laundering and financing of terrorism to reside in Lithuania. However, he or she must have some experience in the industry and a good reputation.
Each visitor and transfer should be thoroughly reviewed according to AML/KYC rules by the permitted business. AML/KYC rules may be inquired about by the FCIS supervisory authority. List of legal entities operating as a virtual currency exchange operator in Lithuania.
Requirements for the company
Companies providing services in the cryptocurrency sector must comply with the following requirements:
Identification procedures and identity checks must be conducted for all clients;
Regulators should have access to customer data;
An internal control system and a risk assessment procedure should be in place at the company;
Compliance with KYC/AML requires a compliance officer
The Financial Crimes Investigation Service (FCIS) must be notified.
The members of the board of directors as well as the owners of the company must have impeccable reputations and no criminal records.
For foreigners/non-residents of Lithuania to engage in crypto activities legally while abroad, there is no physical presence requirement for crypto company owners and board members.
It is necessary to submit the following documents when applying for a cryptocurrency license in Lithuania:
All participants' passports must be apostilled
The CVs of all participants in the project
Lithuanian territory does not include virtual or physical offices
It is important that the board has a good reputation in the business world (no criminal record)
As part of the application process, an AML officer must prove that they have a good reputation in business and do not have any criminal records, as well as provide documentation regarding relevant education, skills, and experience
KYC/AML officers can be replaced by third-party suppliers with whom a collaboration agreement has been reached
Owners/board members of the company do not have any restrictions based on their country of residence.
The KYC/AML procedures, procedural rules, and business plan
Implementation of projects quickly
A ready-to-use solution is available
Fully remote solutions are possible
There is no requirement to have an office
Requirements for company members
Owners (natural or legal) must be present. In the current state of affairs, members of the company are not restricted based on their nationality or place of residence.
An owner must be on the board (it can be the same owner). Citizenship and residency are not restricted. Currently, members of the company are not restricted based on their nationality or residence.
Officer responsible for AML compliance (may be the same owner). Citizenship and residency are not restricted. Compliance with FCIS requirements and professional experience are required.
An office is located at the company. There is no restriction on the use of a virtual office.
It is necessary to provide the data of all beneficial owners (UBOs) at the time of application.
Documents needed
In order to review and prepare an application for a cryptocurrency license, the following documentation will be required:
A valid passport copy from the country of origin
In the case of a remote start-up and license application, a power of attorney (PoA) is required
The business model of the company and a detailed description of its activities
Crypto license participants' CVs/summaries of experience and education
Address of website that will offer cryptocurrency services
A copy of the criminal record of an owner, board member, final beneficiary (UBO) or AML officer (not older than 3 months)
REPORTING REQUIREMENTS
To report to the tax authorities, the cryptocurrency company does not have any special requirements. Lithuanian companies must provide accounting in the same way as other companies. Crypto companies do not need to report to regulators, but FCIS is always able to make prescriptions and requests about their activities. Essentially, the FCIS requires that crypto projects comply with AML/KYC requirements, such as collecting client data from crypto projects and making it available to the regulator upon request.
TAXATION OF VIRTUAL CURRENCY COMPANIES IN LITHUANIA
VAT does not apply to crypto exchange services.
VAT is required on cryptocurrency offers
There is a 15% tax on cryptocurrency benefits. Taxes are applied to small businesses with less than 10 employees and turnovers below 300,000 euros.
Dividends paid on income are taxed at 15%.
Depending on the type of crypto activity, taxes vary. Taxes are not imposed on tokens acquired through exchange, nesting, or any other means.
Lithuania
| | | | |
| --- | --- | --- | --- |
| Capital | Population | Currency | GDP |
| Vilnius | 2,801,000 | EUR | $24,032 |
FREQUENTLY ASKED QUESTIONS
At the moment, the main services of our company are legal and compliance solutions for FinTech projects. Our offices are located in Tallinn, Vilnius, Prague, and Warsaw. The legal team can assist with legal analysis, project structuring, and legal regulation.
Company in Poland Sp. z o.o
Company in Czech Republic s.r.o.
Please leave your request