Turkey is a candidate for EU membership, and its civil law system is largely based on continental European models. Moreover, the country is a member of such reputable organisations as the Organization for Economic Cooperation and Development (OECD) which means that its taxation system corresponds with global standards. The data show that Turkish residents are very open to the adoption of cryptoassets which is a good reason for crypto entrepreneurs to take this jurisdiction into consideration.
That said, the Central Bank currently prohibits the use of cryptoassets as payment instruments in transactions for products and services. The authority seeks to protect Turkish consumers against volatility and illegal activities related to the anonymity of crypto users, as well as prevent current payment infrastructure and instruments from being damaged. Read on if this restriction isn't going to be a major issue for your crypto business.
Regarding international agreements, Turkey is a signatory to OECD's Multilateral Convention to Implement Tax Treaty Related Measures to Prevent Base Erosion and Profit Shifting (MLI) and has committed itself to adopt the minimum standards as well as meet several optional conditions. The OECD has also recently introduced a new international tax transparency framework, the Crypto-Asset Reporting Framework (CARF), the purpose of which is to raise crypto taxation and tax reporting standards through automatic tax reporting and taxpayer information sharing between international authorities.
In Turkey, taxation authorities are divided into two parts – Revenue Administration and Tax Inspection Board. The former is responsible for collecting and handling national taxes and ensuring the rights of the taxpayers within the framework of Constitutional Law and tax legislation. The latter is authorised to carry out inspections of the taxpayers in order to eliminate and prevent corrupt financial activities.
At present, there's no robust guidance on the taxation of crypto activities. While crypto businesses are obligated to pay general taxes, there is no official categorisation of cryptoassets and various crypto-related activities (e.g., mining or staking) aren't taxed in any distinctive way. However, the authorities are working on improved guidance that should enable crypto businesses to better structure their taxes.
Advantages of the Turkish Tax System
Turkey has signed around 90 international double taxation agreements, the purpose of which is to eliminate juridical double taxation of natural and legal persons. These agreements allocate taxing rights on various sources of income or gains between two countries and enable the optimisation of taxation.
Another notable advantage is 18 free zones with a special tax regime, encouraging the development of innovative and traditional businesses across the country. Natural and legal persons conducting research, trade, software development, and other activities can seek licensing from the Ministry of Commerce of Turkey in order to avail of such benefits as exemption from Corporate Income Tax, Individual Income Tax, Stamp Duty, VAT, and other relevant taxes.
Research and development (R&D) activities are supported through tax reliefs, which are provided in the form of an incremental R&D tax allowance and partial exemption from employer's Social Security Contributions. The rate of the incremental R&D tax allowance is 50% and unused tax benefits can be carried forward for an indefinite period.  The exemption from Social Security Contributions is administered through the social security contributions system.
Corporate Income Tax
In Turkey, the standard Corporate Income Tax rate is 20%. Crypto companies whose registered office is located in Turkey or whose executive operations are centred and managed in Turkey are subject to paying Corporate Income Tax on their worldwide income. Non-resident companies are subject to tax only on income sourced in Turkey. The 25% rate applies to banking institutions, financial institutions defined in Law No. 6361, and other companies operating within the financial market.
Turkish Corporate Income Tax legislation allows for deductions for all ordinary and necessary business expenses incurred for the generation of income during the taxable year. Eligible expenses must be necessary for the business, as well as thoroughly documented in accordance with the law. However, there are certain expenses that generally don't qualify as deductible business expenses. For instance, interest on shareholders' equity or on advances from shareholders, reserves set aside from profits, Corporate Income Tax, fines, tax loss penalties, and interest imposed on such tax aren't deductible.
Capital Gains Tax
Capital gains received by a company are treated as ordinary income and are subject to Corporate Income Tax. 75% of capital gains received by corporate taxpayers after the sale of shares and 50% of capital gains received after the sale of immovable property owned by them for at least two years are exempt from tax provided that these gains are held in a dedicated bank account until the end of the fifth year following the year of sale. Another exemption applies to capital gains received from the sale of foreign participations that have been held for at least two years by a holding company resident in Turkey.
Value-Added Tax
In Turkey, the standard VAT rate is 18% and is levied on the provision of products and services to Turkish customers. For local businesses, there is no registration threshold and generally, every Turkish company should register as a VAT payer before starting business operations in Turkey.
Currently, there's no detailed guidance on the VAT liability of different crypto companies, and therefore it's necessary to examine every individual case. If you're looking for further clarification, our dedicated legal team here at Regulated United Europe (RUE) will be pleased to schedule a personalised consultation for you.
The general Turkish VAT rules include a VAT mechanism of reverse-charge, which requires the calculation of VAT by resident companies on payments to persons in foreign countries. In accordance with this mechanism, VAT is calculated and paid to an appropriate tax office by the resident company. The resident company has to regard this VAT as input VAT and offset it in the same month.
Withholding Tax
As of December 2021, the rate of the Withholding Tax has been reduced to 10% and is levied on dividends paid to a resident or non-resident individual, or a non-resident company. No tax is imposed on dividends paid to a resident company. The Withholding Tax rate on professional services and royalty payments made to non-residents is 20%.
Recall that Turkey has an extensive network of international agreements on the elimination of double taxation that can be instrumental in reducing the Withholding Tax rate in your particular case.
Payroll Taxes in Turkey
According to Turkish legislation, Individual Income Tax, Stamp Tax, Social Security Contributions, and Unemployment Contributions are legal deductions from employees' salaries. Every crypto company that is a resident of Turkey is obligated to include its employees in the local payroll and withhold taxes on income at source, whereas employees receive the net amount after the deductions.
The Individual Income Tax and the Stamp Tax should be declared by the employers filing Withholding Tax returns. The Social Security Contributions and the Unemployment Contributions should be declared by employers on a monthly basis by filing Social Security Contributions declarations.
Depending on the total earnings, the Individual Income Tax rate is applied progressively and varies from 15% to 40%. Among other types of income, it's levied on all types of salaries, whenever there's a relationship between an employer and an employee
In Turkey, the Individual Income Tax rates are applied as follows:
If the taxable income doesn't exceed 32,000 TRY (approx. 2,000 EUR) – 15%
If the taxable income is between 32,000 TRY (approx. 2,000 EUR) and 70,000 TRY (approx. 3,500 EUR) – 20%
If the taxable income is between 70,000 TRY (approx. 3,500 EUR) and 250,000 TRY (approx. 12,500 EUR) – 27%
If the taxable income is between 250,000 TRY (approx. 12,500 EUR) and 880,000 TRY (approx. 44,000 EUR) – 35%
If the taxable income exceeds 880,000 TRY (approx. 44,000 EUR) – 40%
Social Security Contributions are paid jointly by employers and employees and total up to 34.5%. Employers pay 20.5%, and employees pay 14% of their salaries. The annual ceiling of the contributions is 48,532 TRY (approx. 2,420 EUR). The total rate of Unemployment Contributions is 3%, where 2% are paid by employers, and 1% is paid by employees.
The rates of the Stamp Tax vary between 0,189% and 0,948%. It's levied on a wide range of documents, including payrolls, agreements, and financial statements. The applicable percentage depends on the value stated in the document and the type of document. Employee salaries are subject to the rate of 0,759% applied to gross amounts.
If you're determined to avail of all the benefits Turkey has to offer and wish to develop your crypto business in this vast market, our team of dedicated and quality-focused legal consultants here at Regulated United Europe (RUE) will be delighted to provide you with tailored, value-added support in structuring your taxes in accordance with local and international rules. We also offer Turkish crypto company formation, crypto licensing, and financial accounting services. Contact us now to schedule a personalised consultation.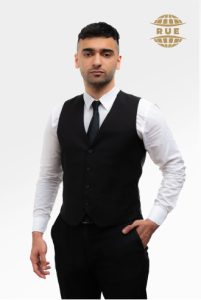 At the moment, the main services of our company are legal and compliance solutions for FinTech projects. Our offices are located in Tallinn, Vilnius, Prague, and Warsaw. The legal team can assist with legal analysis, project structuring, and legal regulation.
Company in Poland Sp. z o.o
Company in Czech Republic s.r.o.
Please leave your request