People have been arguing with each other since they lived in caves. There was no money in those days, and the bet was on material things – weapons, household utensils, cattle, and later, in the slave trade, and slaves. The first sporting events began in antiquity. The first Olympic Games in Ancient Greece took place in 776 BC. People then most often bet on the outcome of gladiatorial battles, races, and chariot races. Archaeologists have found fragments of manuscripts that indicate that around the fifth century BC and the first prototype of the tote appeared. There was also a set of rules for taking bets.
In ancient Rome, gladiator fights were common, and spectators in the arenas argued for the victory of their favourite. In the harsh Roman law there was a law called Lex aleatoria (from alea – dice), considered the first law on betting. Even then, in the third century BC, gambling was banned, but sports betting was allowed.
Later European monarchs issued decrees attesting to the development of gambling and gambling. King Louis I of France issued an edict in 1254 forbidding gambling on the territory of the country on pain of whipping. In 1710, Queen Anne of England declared debts at «a matter of honour» without legal consequences.
First bookies
The evolution of betting and gambling was on its way, and its natural stage was the emergence of bookmaking. Richard Tattersaul first began taking bets in 1766 and William Ogden in 1790. The odds were set between the bet and the win of each horse: thus the first odds appeared. For a long time, betting was developed on the racetracks: racing was then the most popular entertainment on both sides of the Atlantic Ocean. Similar organizations soon appeared in France, the United States and other countries.
The activities of bookmakers in those years were not regulated by law. As a result, their clients had to rely on the honesty and decency of the bidders. In 1850, Leviathan Davis and Fred Swindell opened the first betting shop in London. Its founders made sports forecasts and distributed leaflets with chances of winning.
Joseph Oller is considered to be the owner of the first betting pool. In 1865, he opened a central cashier in Paris to accept mortgages from players. This enterprise was a great success and led to the opening of a number of other similar funds. At the end of the 19th century, laws governing betting were passed in France, Great Britain, and other countries.
From Racecourses to Online Betting
In 1923, Littlewoods was established in Liverpool, California, and began taking bets by mail. Treble Chance was the best-known game where players could make 10, 11, or 12 forecasts for football matches over the coming weekend. Littlewoods was one of the world's largest private companies until online betting gained momentum.
William Hill was founded in London in 1934 as the world's most popular betting company. Until the mid-20th century, bookmaking remained semi-legal, and the bettors were deprived of legal protection.
The key year for betting was 1961, when betting was officially legalized in the UK on May 1. By the end of that year alone, over ten thousand betting houses had opened in this country. Betting has rapidly gained popularity worldwide. Bookmakers began to take bets on almost all sports, as well as on unsporting events.
Online betting
The first online bet was made in 1996. It was hosted by Intertops, a licensed online betting company of the small island Caribbean state of Antigua and Barbuda. In 1994, as an offshore zone, that country was granted the right to issue such licenses from the WTO. In the future, other betting companies preferred to be based offshore due to tax breaks. By 2001, the online sports betting market had surpassed two billion dollars, and the number of players had reached eight million. In 2002, betors were able to make their first live bets.
Intertops has also pioneered the development of mobile betting applications. In 2000, the first such software was launched, allowing online betting from mobile devices.
Sports betting market size
Zion Market Research, a consulting company, has conducted a study that suggests that the world's online sports betting market may exceed $150 billion in 2024. It has also been found that sports betting now covers more than 70% of the global gambling industry. The biggest turnover of money is observed in football betting, second place on this list is baseball.
Earnings from the gambling market in Europe
According to the European Gaming and Betting Association (EGBA) in 2019, the overall European gambling market was estimated at 98.6 billion euros – the share of online gambling is 24.5 billion euros and land-based gambling is 74.1 billion euros gross gaming income.
In 2020, due to the influence of COVID, total revenue from games decreased by 23% to 75.9 billion euros, but the share of online gambling is expected to increase significantly by 7% to 26.3 billion euros of gross gaming income.
Overall gambling revenue in Europe is projected to increase by €111 billion in 2025, with online gambling accounting for over 33%.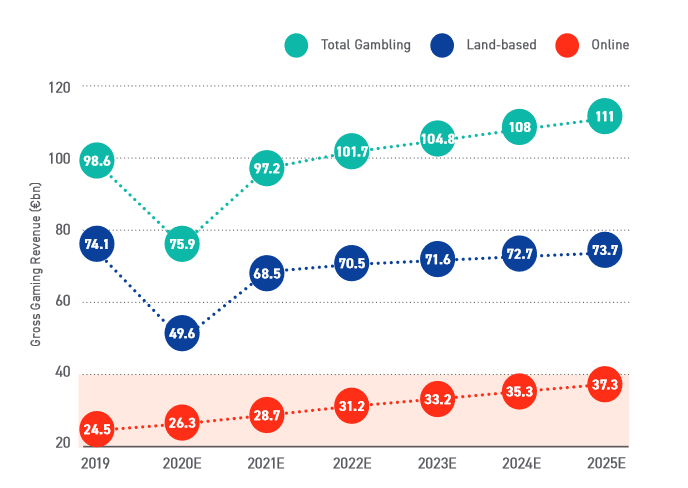 The regulated online gambling market is growing in Europe
According to research, the share of regulated/legal gambling in Europe is also increasing.
In 2019, Europe had an online entry rate of 73.5%, which means that almost three quarters of online gaming activity took place in the regulated market, while 26.5% of activity was in the gray and black markets. Online gambling market share is expected to increase to 80.1% by 2023.
Sports betting – the most popular type of online gambling in Europe
Sports betting remains the most popular online gambling, with 41% of European online revenue and 10 billion euros of gross revenue from games in 2019.
Sports Betting 41%
Casino 34%
Lottery 15%
Poker 5%
Bingo 4%
Other / Skill Gaming 1%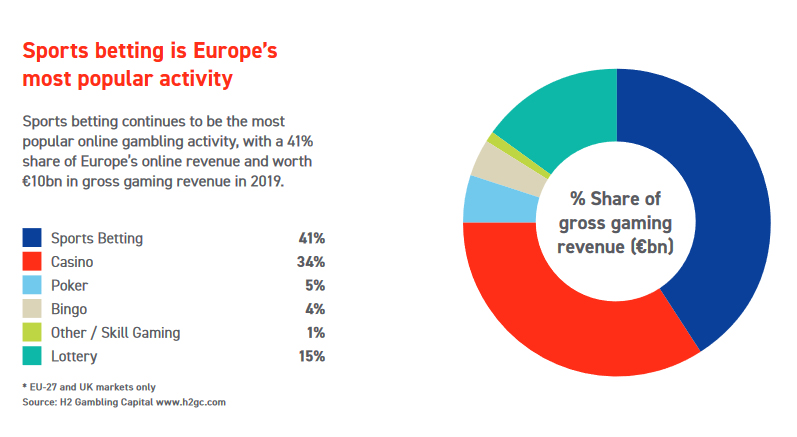 European online gambling becomes mobile
In 2019, 55.9% of online bets in Europe were made from desktops, and only 44.1% of online bets were made from mobile devices. By 2025, a greater shift to mobile rates is expected and is projected to reach 58.2% of all online betting.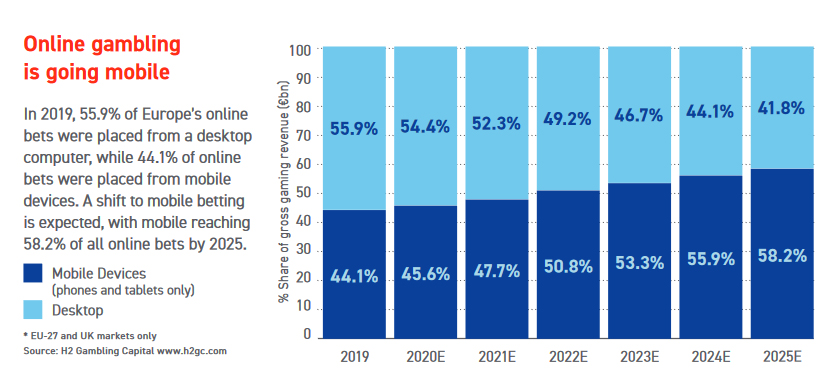 Table References: European Online Gambling Key Figures 2020 Edition
Biggest sports betting
5) Charles Barkley. Bet on the 2002 Super Bowl – £647,000 on the victory of «New England Petriots» – Bet played
4) Anonymous. Bet on the 2018 Super Bowl – £1.2 million on winning «Philadelphia Eagles» – Bet played
3) Dave «Vegas» Oncha. Bet on baseball, 2015 – £2 million to win «Kansas City Royals» – Bet played
2) Billy Walters. Bet on the 2010 Super Bowl – £2.8 million on the win of «New Orleans Saints» – Bet played
1) Floyd Mayweather. Bet on the 2014 Super Bowl – £8 million on winning «Denver Broncos» – Bet not played
Future of the betting world
Experts say that after switching to online mode, the work of many bookmakers has become more transparent. However, players often complain that bookies refuse to pay winnings. Bookies in turn report software failures or suspicious activity in the profile. It is therefore necessary to build more transparent models.
Betting may switch to blockchain technology in the near future. Such technology will make the activity more transparent, as all transactions can be quickly tracked down in the future. Many journals write that in the near future will be actively developing the following areas:
eSports
blockchain;
virtual reality.
Due to blockchain technology, all bets will be placed in a special register. Accordingly, it will be impossible to change the results. According to experts, blockchain completely eliminates the human factor and the interference of third parties in the processing of bets made. Bookmakers who will use blockchain technology will be able to provide their customers with new opportunities that did not exist before.
E-sports began to grow rapidly. Experts are confident that this is a popular discipline, which in the near future can become Olympic. The cybersports market now stands at around $900 million, with millions of users watching streams worldwide.
Betting companies have already been included in the list of championships in several popular games. Browsing the list of betters will find the following games:
CS:GO.
The popularity of tournaments is constantly increasing, which affects the increase in bets on such events. Some companies try to add a touch of sensation to provide virtual reality. The unique technology of Get InThe Race created the effect of presence on horse racing, which caused a real stir among many users.
Conclusion
On the territory of most countries of Europe, the activity of betting offices is legal, so companies can obtain the necessary license. However, most owners or beginners of online betting offices prefer a license that is issued by offshore zones or countries with loyal regulation of gambling activities. Gambling attorneys from Regulated United Europe would recommend that start-ups consider receiving gambling license in Curacao или gambling license in Costa Rica. This is primarily due to the low cost of permit documents as well as the term of obtaining the necessary license.
At the moment, the main services of our company are legal and compliance solutions for FinTech projects. Our offices are located in Tallinn, Vilnius, Prague, and Warsaw. The legal team can assist with legal analysis, project structuring, and legal regulation.
Company in Poland Sp. z o.o
Company in Czech Republic s.r.o.
Please leave your request