You might be interested in a crypto company for various reasons – whether it's a strategic partnership promising business growth through mutually created products or services, your potential client, or maybe you're looking for a trusted crypto service provider to meet your company's financial needs. Whatever the reason, take the time to perform due diligence and investigate the background of the crypto company before signing an agreement that might have long-term implications for your business.
To prevent fraud and ensure financial market stability, many countries have now legalised and started regulating companies engaging in crypto-related economic activities. This means that only fully licensed crypto businesses are permitted to operate in certain countries, while the rest pose serious risks to investors and partners or are not permitted as an industry in principle.
Therefore, when you start looking for crypto partnerships or similar opportunities in the lucrative yet volatile market of cryptocurrencies, consider ordering a robust audit of a potential financial partner or client prior to agreeing to cooperate. Based on our vast professional experience in corporate law, we can ensure that this step will save your business from unnecessary trouble and will facilitate the formation of a reliable partnership.
What Is a Crypto Company Check
A crypto company check, or crypto company audit, is a legal process designed for the verification of company information. Basically, you want to be sure that your potential financial partner actually is what it says it is, and you can safely entrust certain parts of your business.
If you decide to order a crypto company check, our team here at RUE (Regulated United Europe) will verify and supply the following information about your potential crypto partner or client:
Essential company information, including incorporation documents – you want to know that the crypto company is fully registered with the national authorities
Background of the owners, directors, and beneficiaries of the company – knowing that the administrative team and key decision makers are real individuals with no signs of a scam is a good start, but it's equally important to find out in advance whether the decision makers are politically exposed if their previous companies went bankrupt, and if any of them have a conviction for money laundering
Registered office address – usually a crypto company must have a registered address in the country of operations, which is why you should make sure that it serves the same territories as you do
Possessed licences – one of the key things to check is whether a crypto company has permission from the national authority to offer their products and services in the country where you're planning to partner with them
Company financial statements – if you wish to evaluate the performance and operations of your potential partner or client, you simply must have their records of financial activities examined
Status of tax debt – a successful and reliable crypto company shouldn't struggle to pay taxes and should file their company tax return on time, which is why we take this important aspect into consideration
Company history (date of incorporation, previous owners, directors, beneficiaries) – you want to know how and why the company was established, what individuals were involved, as well as why the owner might have changed, and what its track record of success and challenges is; this will help you to assess the stability of the potential partner
Company-owned domains – previously and currently owned domains can also hint about the reliability of the crypto company by providing information about the array of its activities
Litigation history – knowing what legal actions might have been taken against or by the crypto company and its owners will help you to understand where it's headed and whether this company is a good fit as a partner or client
To provide you with this vital information, we'll start by determining what regulations are applicable to your potential crypto partner and what licences must be possessed in the territories where you're planning to engage with this company. We'll make sure to check all relevant business registers and get in touch with the tax, supervisory and other authorities whose rules your potential crypto partner or client has to abide by. We aim to be as efficient as we can, but remember that the timeline of the audit also depends on the involved competent institutions.
What Companies Should Be Checked
Although many countries have varying legal frameworks governing cryptocurrency businesses, it's safe to say that most of them regulate the same crypto activities, mostly for anti-money laundering and counter-terrorist financing (AML/CFT) purposes.
If you're planning to initiate a business relationship with a company offering the following products and services, we highly recommend checking at least their crypto licence to avoid financial, reputational, and other losses:
Exchange from cryptocurrencies to fiat money and vice versa
Exchange from cryptocurrency to a different kind of cryptocurrency
Crypto wallet services
Crypto ATM operations
Participation in Initial Coin Offerings (ICOs)
Facilitation of peer-to-peer exchange of crypto
Certain crypto-related businesses are exempt from licensing or might be unregulated by national authorities, but that doesn't mean you shouldn't request an audit of the rest of the company information. If you're not sure what crypto regulatory framework your potential crypto partner should be checked against, our friendly team of experts will help you to navigate the legal maze.
We can start auditing your potential crypto partner at any phase of your partner selection, although usually the checks are carried out for shortlisted crypto companies. It's important to remember that the process of shortlisting is more efficient when you clearly know what your company's needs and capabilities are.
Before considering a crypto company as a potential partner, identify the following aspects:
What countries your business operates in, as this may determine what licences we have to look for
What your long-term vision and needs are and whether they correspond with what a crypto company has to offer
Your business values – you want to be sure that a new partner won't pose a reputational or another kind of risk that may damage your values
Your budget that you're prepared to spend on the partnership and how that partnership will impact your business growth from the financial perspective
What you expect from a crypto company in terms of areas of impact, results, and deliverables
All of this information will also help us deliver you the relevant information and possibly interpret it in a correct manner that will help you to make the right decision. Note that there are different aspects to take into consideration if a crypto company you're interested in is your potential client. It's one of the reasons you should book a personalised consultation with us.
Why Should You Order a Crypto Company Check?
A robust crypto company audit will help you make an informed decision on choosing a reliable financial partner or accepting a crypto client. You should only partner with a crypto company that's fully and properly licensed by the appropriate authorities.
This will help you manage risks related to the following aspects:
Legally required proficiency of the potential financial partner's owners and senior management
Exposure to the bankruptcy of the partner
Crypto company's licence availability and the extent of the crypto-related activities in the relevant territories
Your company's reputational damage due to illegal or inappropriate activities a partner or a client might be engaged in
Crypto company's adherence to appropriate conduct standards
Overall, the process of a crypto company audit is rather complex and therefore requires a professional examination which can prevent the emergence of unforeseen obstacles in the long run and consequently enforce smooth operations of your own business.
If you're looking for new financial partners or are already preparing to sign an agreement with a crypto client, our highly experienced and insightful team of Regulated United Europe (RUE) is here to support you. We offer a robust audit, including a crypto licence check, which will protect your business from undesired partnerships. We guarantee efficiency, confidentiality, and meticulous attention to every detail that impacts the success of your business. Contact us now to book a personalised consultation.
| | |
| --- | --- |
| Crypto company audit and crypto license check | from 750 EUR |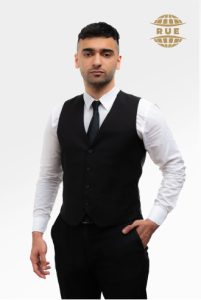 At the moment, the main services of our company are legal and compliance solutions for FinTech projects. Our offices are located in Tallinn, Vilnius, Prague, and Warsaw. The legal team can assist with legal analysis, project structuring, and legal regulation.
Company in Poland Sp. z o.o
Company in Czech Republic s.r.o.
Please leave your request