The Croatian government endeavours to ensure effective taxation which allows for innovation to flourish, and at the same time secures revenues for improved public services and public investment. While crypto businesses are still waiting for comprehensive and more specific guidance on taxation, they're already considered liable taxpayers, and therefore standard Croatian and EU taxation rules apply.
Generally, Croatia is among the countries that are the most open to crypto adoption. The Croatian population embraces cryptocurrencies as a valid means of payment across various sectors – hotels, museums, municipalities, gas stations, and online stores. Many crypto-related activities are taxed on the basis of how cryptocurrencies are sourced and what the legal status of the owner is.
The Tax Administration is the authoritative body responsible for the administration of taxes, including the implementation of tax regulations. The main functions include the maintenance of the tax registers and issuance of documents on facts maintained in official records, the assessment, and collection of taxes and obligatory contributions, and the execution of tax audits. The authority also implements relevant EU directives and international rules.
Advantages of the Croatian Tax System
The Croatian tax system offers plenty of opportunities to optimise corporate taxation and build new and innovative businesses in a sustainable way. For instance, Croatia has signed around 70 international agreements on the elimination of double taxation, which deal with the taxation rights between two or more contracting countries. They enable businesses with an international presence to protect their various types of income from being taxed twice in different countries. Moreover, the agreements are also designed to prevent cross-border tax evasion.
Investments in innovation are supported in accordance with the Act on Investment Promotion which covers business support activities, high-value services, innovative projects, and manufacturing and processing activities. Various incentives and reliefs are available to innovative companies registered in Croatia.
In the case of the purchase of high-technology equipment, a non-refundable grant is available which amounts to 20% of the actual eligible expenses incurred by the purchase, but can't exceed 3,770,000 HRK (approx. 500,000 EUR). An additional grant is available if a company creates new jobs in relation to the innovative project.
In Croatia, there are many allowable tax deductions that crypto businesses can avail of. Generally, startup expenses are considered to be expenses for Corporate Income Tax purposes in the financial year in which they are incurred, and this is when they have to be deducted. Interest expenses on loans between related companies can also be deducted, up to the amount specified by the Ministry of Finance.
Corporate Income Tax
The standard rate of Corporate Income Tax is 18%. Croatian tax-resident companies are obligated to pay tax on profits sourced in Croatia and abroad, whereas non-resident companies are taxed only on profits sourced in Croatia. Tax residents are companies whose registered office is recorded in Croatia's register, or whose place of effective management and control of business is located in Croatia.
Income sourced from cryptocurrencies is subject to Corporate Income Tax because the difference between the company's crypto sale price and the purchase price is considered income sourced from the sale of cryptocurrencies. If the crypto company's annual revenue doesn't exceed 7,5 mill. HRK (approx. 995,421 EUR), a reduced 10% rate applies as it's then categorised as a small business.
When cryptocurrencies are gained as a result of the crypto mining process, they're considered taxable income. Profits made from crypto trading activities involving fiat money on crypto exchange platforms are also taxed. The basis for taxation is calculated by subtracting the purchase value from the sale value.
Most of the other crypto-related services are taxed in accordance with general legislation. For instance, the provision of marketing or promotion services to crypto exchanges, and servicing crypto mining hardware are subject to Corporate Income Tax. Holding cryptocurrencies as financial assets and exchanging cryptocurrencies for another type of cryptocurrencies don't trigger a taxable event.
Capital Gains Tax
Corporate capital gains are subject to the standard Corporate Income Tax rate, and the standard Capital Gains Tax rate for individuals is 10% which is levied on capital gains, including interest and dividends. The taxable amount is calculated by subtracting associated transaction costs, fees, and capital loss from a capital gain realised in the previous year. Capital gains realised from the sale of cryptoassets are tax-exempt if they're held for at least two years.
Value-Added Tax
The standard VAT rate in Croatia is 25% which is levied on most products and services sold in Croatia. All relevant VAT rules are aligned with the provisions of the EU's VAT Directive. While not every crypto-related activity triggers VAT liability, generally, crypto companies are obligated to register as VAT payers with the Tax Administration.
For foreign investors, there is no VAT threshold registration, except for companies engaged in distance selling activities. E-commerce companies selling products and services to customers based in Croatia must register as VAT payers in Croatia as soon as their annual revenue reaches 270,000 HRK (approx. 36,000 EUR).
In line with the decision of the Court of Justice of the European Union (CJEU) and provisions in Article 135(1)(e) of the VAT Directive, Croatia doesn't impose VAT on cryptocurrencies as they're treated as legal means of payment for VAT purposes. Back in 2015, the CJEU placed cryptocurrencies in the same category as banknotes and coins used as legal tender.
Other relevant rules cover the following activities:
Cryptocurrencies received from mining activities are outside the scope of VAT as there is no sufficient link between a customer and provided services
No VAT is due in the event of the crypto transaction when cryptoassets are exchanged for products and services
Fees imposed over and above the value of cryptocurrencies for arranging or carrying out any transactions in cryptocurrencies are also VAT-exempt
Withholding Tax
In Croatia, the Withholding Tax rate is 10%, but it can be lowered or exempt if an applicable double taxation agreement or the EU law stipulates a lower rate or exemption. To be able to avail of the agreements, a company must meet a list of requirements.
Dividends and other profit-share distributions paid to an EU parent company that holds at least 10% of the capital of the distributing company for at least two uninterrupted years aren't subject to the Withholding Tax. If the two-year requirement isn't met, the exemption can be applicable when a bank issues a guarantee for the tax that would be due if the requirement is eventually not fulfilled.
An increased rate of 20% is levied on dividends distributed to residents of non-cooperative jurisdictions for tax purposes, the list of which is compiled by the EU. Exceptions apply if a non-cooperative jurisdiction has a tax agreement with Croatia.
Payroll Taxes
Like every employer, crypto companies are also legally required to withhold a percentage of their employees' salaries on the basis of deducting Personal Income Tax and Social Security Contributions. If an employer pays salaries in cryptocurrencies in accordance with Personal Income Tax Act, such payments are considered benefits in kind, and relevant taxes are calculated for this type of payment based on the market price of paid cryptocurrencies on the day of the salary transfer.
Croatian Personal Income Tax rates are as follows:
Up to 360,00 HRK (approx. 47,780 EUR) annually – 20%
Over 360,00 HRK (approx. 47,780 EUR) annually – 30%
The Croatian social security system includes retirement pension, health, and unemployment insurance, work accident insurance, and paternal leave. Employers are obligated to pay 16.5% of their employees' gross salaries into the health insurance fund. However, companies that permanently employ staff with no professional experience or under the age of 30, might be exempt from health insurance contributions for 1–5 years.
Chamber of Commerce Contributions
Depending on the company size, employers are required to pay monthly membership fees to the Croatian Chamber of Commerce. For this purpose, companies are divided into three categories according to their value of assets, total income, and company size. The first category is no longer obligated to pay the contribution unless they opt for doing so in exchange for certain benefits. These are the companies that don't exceed 1 mill. EUR in total assets, 2 mill. EUR in total revenue, and have less than 50 permanent employees. Companies of other categories must still pay contributions that can reach several hundred euros.
If you're looking to optimise your corporate and personal taxes and contributions in Croatia, our team of dedicated and quality-focused legal consultants here at Regulated United Europe (RUE) will be delighted to provide you with tailored, value-added support in structuring your taxes in accordance with Croatian and international regulations. We also offer Croatian crypto company formation, crypto licensing, and financial accounting services. Contact us now to schedule a personalised consultation.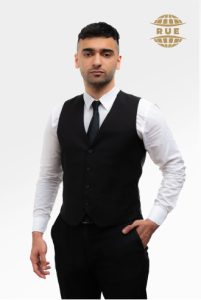 At the moment, the main services of our company are legal and compliance solutions for FinTech projects. Our offices are located in Tallinn, Vilnius, Prague, and Warsaw. The legal team can assist with legal analysis, project structuring, and legal regulation.
Company in Poland Sp. z o.o
Company in Czech Republic s.r.o.
Please leave your request